Milnes VOICE Studio
SAVANNAH, GEORGIA | AUGUST 6 - 20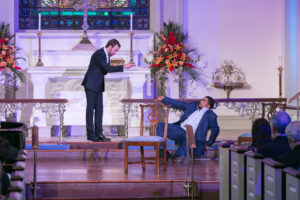 AS PART OF THE SAVANNAH VOICE FESTIVAL
A SUMMER INTENSIVE FOR CAREER SEEKING SINGERS
This career development intensive is led by opera legend SHERRILL MILNES.  A pay-to-study program, it focuses on personal training designed to take you to the next level of your career. Singers train and live at the comfortable and luxurious WESTIN SAVANNAH HARBOR with the historic city of Savannah as their backdrop.
Milnes VOICE Studio participants also have the opportunity to perform in a production of Mozart's Le Nozze di Figaro as part of the Milnes VOICE Programs at the Savannah VOICE Festival.
All applicants to the Studio will be considered for roles and covers.  Participation in Mozart's Le Nozze di Figaro is optional and other performing opportunities are available to Studio singers in a final Scenes Performance.
---
Intensive Includes:
Lessons & Coachings
Studio Performances
Master Classes
Special Events
plus Personalized Career Consultation
Tuition*: $1,950
Includes all classes and performances
40 Singers Accepted – Scholarships are available based on need and merit
*Tuition does not include travel or hotel stay at the Westin Savannah Harbor Resort. Out of state participants are required to stay at the Westin at a special VOICE Programs rate, available for double or single occupancy.
---
Faculty
Sherrill Milnes, Artistic Director
Maria Zouves, Executive Director
VOICE
Antonio Barasorda
Elizabeth de Trejo
Beth Roberts
Mark Schnaible
Maria Spacagna
Stella Zambalis
PIANO/COACHING
Laura Brumbaugh
Brent Douglas
Dan Gettinger
Constantine Grame
Tessa Hartle
Dura Jun
Kristin Kemp
Vindhya Khare
Justina Lee
Caren Levine
Jorge Parodi
Robin Stamper
Kevin Wallace
Jestin Pieper
STAGE DIRECTION
Fabrizio Melano
Joachim Schamberger
Maria Zouves
SPECIAL PRESENTER
Michael Ching
Denyce Graves
Timothy Hall
Faculty is subject to change without notice.
Apply
2017 APPLICATIONS ARE NOW CLOSED
2018 Season applications will open in October