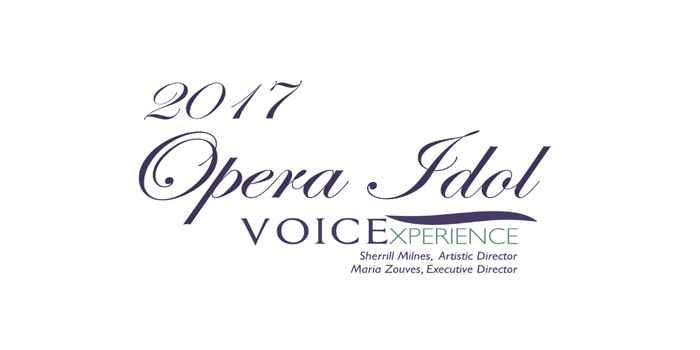 VE'S 11th Annual Opera Idol Winners
Apr 26, 2017
For the 11th consecutive year, acclaimed operatic Baritone Sherrill Milnes along with his wife, renowned soprano Maria Zouves, will return to the Midwest for the annual "Opera Idol" vocal competition in Chicago, Illinois.
This year's winners are baritone Jean Carlos Rodriguez with the 2017 Opera Idol Award and soprano Helaine Liebman took home the People's Choice Award. These awards are will go towards scholarships for both artists to attend the Milnes VOICE Studio this summer as part of the Savannah VOICE Festival, August 6 – 21, 2017.
Opera Idol was contrived by Milnes and Zouves as part of their non-profit vocal training organization, VOICExperience Foundation, when the two served as faculty at Northwestern University's Bienen School of Music. The contest aims to encourage budding opera stars in a format that emulates popular television shows featuring talent searches. This event is free and open to the public.
Formally at the Merion in Evanston, this year marks the first time the highly-anticipated event – which draws aspiring, young opera singers from around the country – will be held at Westminster Place, a premier independent living community on Chicago's North Shore. The rising stars take center stage to showcase their talents at 7:30 p.m. Thursday, April 27 in the Elliot Chapel.
The competition winner will be awarded a full scholarship plus airfare to Savannah, Georgia, to attend the nationally recognized two-week VOICExperience workshop in August. It is hosted by Zouves and Milnes, who will conduct the competition in a Master Class format. Mary Burkhardt Lysaught is donating the grand prize, which has been deemed as The Tom Lysaught Scholarship Fund, in honor of Mary's late husband.
"My husband used to love hearing young opera singers, and so the scholarship is being awarded in his name. Maria and Sherrill have been close to me for many years, so I'm more than happy to support this initiative," Lysaught said. She plans to fly from her home in Texas to attend Opera Idol in Chicago, and will later travel to Savannah in August for the fifth annual three-week Savannah VOICE Festival, in which VOICExperience takes part.
A panel of three judges will select the winner. In addition, audience members will be given a chance to vote and select a "People's Choice" award, who will receive a $1,000 scholarship toward the cost of participation in VOICExperience.
Milnes, who is a John Evans Distinguished Professor of Music Emeritus, and Zouves joined Northwestern's faculty after Milnes concluded a long career on all the major stages of the operatic world, including the Metropolitan Opera, where he was the leading baritone for over three decades. "I hold music education degrees and my plan back then as a young singer in the Midwest was to teach – I guess I just took a few decades out to sing, only to end up doing what I sought out to do 40 years ago" Milnes quips. It was during this time frame that they founded VOICExperience and, subsequently, Opera Idol. They were sought after and brought to the university by faculty member and at that time, Dean of the Bienen School of Music (he is now Emeritus) and co-sponsor of Opera Idol, Dr. Bernard Dobroski. Dr. Dobroski and his wife, Sally, are sponsoring the "People's Choice" award.
Dobroski helped fund the initial VOICExperience workshops in Florida and is on the foundation's founding board. He said Opera Idol presents an outstanding opportunity for young singers who stand to benefit from attending VOICExperience.
"Our goal is to support young people whose passion and desire to move their careers forward would be enhanced by participating in this kind of event. We're able to meet and identify some of the future musical leaders in the national and international scenes. I've met, at the beginning of their careers, people who came with great potential but not the polish and style that they develop after working with Sherrill and Maria, and the number of master teachers that we bring to Savannah for VOICExperience," Dobroski said. "It's the idea of watching people's career trajectory. A number of people who come to VOICExperience are very talented, but we counsel and offer advice about different ways they can approach their careers. To help point them, not only toward their goal of becoming a major opera singer, but toward other opportunities. Because there are literally hundreds of other opportunities in voice and opera that don't involve being on stage."
Milnes, who grew up in the western suburb of Chicago, Downers Grove, is pleased he and his wife are able to offer aspiring young singers the chance to hone their craft while learning more about the performing arts.
"Being able to actually work with the singers in a competition format is not only unique to 'Opera Idol', but it helps us access what their needs are once they come into the summer program, if they should attend." Milnes said. "Plus, Maria is able to interview them as part of the format, so the audience really begins to understand the total dimensions of that talent. It's very rewarding for us, the audience and for those chosen to participate."
Westminster Place, the venue sponsor for Opera Idol 2017, is a Presbyterian Homes community centrally located in the Chicago suburb of Evanston, Illinois. Jill Greenman, Westminster's activities specialist for residential programming, is a classical singer and music teacher. She's thrilled that Opera Idol has chosen to relocate to Westminster Place.
"It's a pretty highly-educated, sophisticated clientele here, and our residents are opera lovers, symphony lovers and theater lovers. When I host programs, I raise the bar pretty high because they expect it. So, this would be right up their alley in terms of their interests and tastes," Greenman said. "It's also great to bring this to some of our other residents, people who maybe can't get out as easily."
Opera Idol's move to Westminster Place came about thanks, in part, to the facility's director of music for pastoral care, Maggie Kemper. She, like Greenman, is a musician who knows Dobroski and sometimes recruits and hosts programs at Westminster Place. Kemper sent the Opera Idol information to Greenman, who saw an opening in the center's activities calendar and jumped at the chance to schedule the competition.
"This is a really great opportunity for us and I think the residents will really be thrilled," Greenman said.
For more information on Opera Idol or VOICExperience, please call 855-76-OPERA or visit www.voicexperiencefoundation.org.